Florida is a wet and humid environment, and nothing can be more devastating to a building's long-lasting stability than water intrusion as the result of a hurricane or strong thunderstorms. Our experience with waterproofing can protect your building against water intrusion by sealing all your windows, doors, and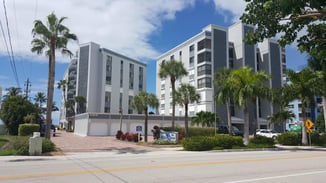 expansion joints. This protection will not only keep your property safe but will guard against increasing insurance rates that can occur due to water intrusion.
Through the use of glazing, wet glazing, structural sealants and waterproofing we are able to prevent water intrusion and further damage to your property. Once we assess the situation we communicate our findings to you, then come up with a solution that will prevent further water intrusion. The process not only protects the integrity of the building, but reduces future maintenance costs.
It protects your building's exterior from damaging elements like constant or heavy rain, stretches of hot, humid, wet weather, and hurricanes

The exterior walls of your property have a ruthless factor to deal with: wind-driven rain

Waterproofing is an affordable service that saves you money and repairs in the long run

Maintain and improve the value of your property investment over time with regular waterproofing - especially before the hurricane season hits

Protects your property from the three biggest threats to Florida structures: water, wind and sunlight
Custom Painting and Restoration offers waterproofing to commercial property owners in the southwest Florida area. Contact us today to schedule a free estimate for your Southwest Florida property.